About Kristen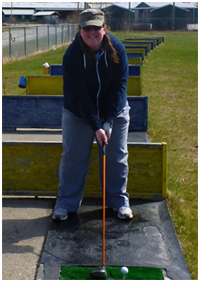 Kristen has been with the MAD Christian Radio Show since day one. Growing up she loved listening to Christian bands like DC Talk and Audio Adrenaline, but was surprised at how many of her friends and classmates were not aware of the kind of Christian music that was out there. At the age of 18 she decided to do something about it and had the crazy idea of starting a radio show in her hometown of Timmins, Ontario. A few months later, the Making A Difference (MAD) Christian Radio Show was born.
Today Kristen has been hosting and producing the show for over 15 years and still loves every minute of it!
Kristen calls Timmins, Ontario home. In her free time Kristen loves to spend time with her nephews and niece, go fishing, travel, play sports and spend time in the great outdoors.
Quick Facts
Full Name:
Kristen Lisa McNulty
Birthdate:
May 9
Nicknames:
Krisy, K-dogg, K-mac, Auntie
Blog:
kristenmcnulty.com
Favorite Songs:
Sold Out (Hawk Nelson), Shoulders (For King & Country), Four Chords (The Classic Crime), The Fight Song (Sanctus Real), When In Doubt (Thousand Foot Krutch), Leaving Lonely (Paul Alan), God Is Watching Over You (Phil Joel), Enchanted (Taylor Swift), Before Morning (Dashboard Confessional)
Favorite Artists:
Thousand Foot Krutch, Relient K, Paul Alan, The Classic Crime, Mat Kearney, The OC Supertones, Taylor Swift, Dashboard Confessional
Dream Vacation:
Backpacking in Europe or a week in the Cayman Islands would be nice!
Favorite MAD Moment:
Finding out that a secular radio station was going to be airing the show. It never ceases to amaze me how God can work!
Favorite Books:
Bittersweet (Shauna Niequist), Present Over Perfect (Shauna Niequist), On A Hill Too Far Away (John Fischer), The Jesus I Never Knew (Philip Yancey), Rooms (James L. Rubart), The List (Robert Whitlow)
Favorite Quotes:
"We are not necessarily doubting that God will do the best for us; we are wondering how painful the best will turn out to be." (C.S. Lewis)
"Why do we cling to what we lose while we ignore what we still hold?" (Duiker the Historian)
Favorite Foods:
Pizza, Chicken Fingers, Cereal, BLT's
Favorite Beverage:
Vanilla latte
Little Known Fact:
Besides writing the MAD
impact devotional's
, Kristen has written two books. The first is Walking Through A Fallen World and the second is
Closed Doors
.